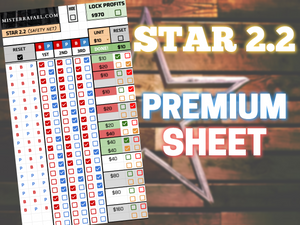 STAR 2.2 || PREMIUM SPREADSHEET
STAR 2.2 is a more conservative approach compared to it's brother the STAR 2.0 & includes a SAFETY NET feature! This unlocks the potential of having MORE than 10 attempts to try & win twice in a row!
VIP PREMIUM Spreadsheets are a MUST HAVE in your tool box!

Have your very own BANKER/PLAYER tracker. For money management, math formulas have already been entered in, so betting amounts automatically appear. Just CLICK & GO!

Mobile friendly! Can be used on iPhone/Android and any laptop computer!
MUST have a GMAIL account to use Google Sheets.

After purchase, an email will be sent to you with download links to your spreadsheets!
---
We Also Recommend